About Me and My work
I have been drawing since the age of 3. Mom and Dad saw that it was more than just scribble and enhanced my intrest in the subject. When I was 7, I was introduced to Jerry Yarnell, who was and is a leader in the wildlife/still life art world.
He had just opened a school and I was one of his first students. I studied under his eye for 2 years and won first place in adult catagories for my paintings. Sold my first Painting at 8 and have been painting, creating, and expressing ever since.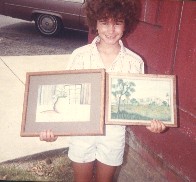 Misti Denison age 8 1983. Painting to the left won first place in the adult division. Was also the first painting that I ever sold.
Job I am working on. I am painting grapes that will go around a kitchen.